GUINNESS GIVES YOU GOODNESS
Ahhh…the black stuff.
Those titillating moments of anticipation…waiting for the eddies to calm and the ivory head to slowly form. That first sip, through the settled smooth, creamy contrast of dark, stouty liquid.
Nothing but a sip of Irish Heaven on Earth – right? Such quintessential Irishness, epitomized by rolling green fields, strapping, ruddy-faced, farmer-type laddies…Right?
WRONG! (Sound of needle scratching on record)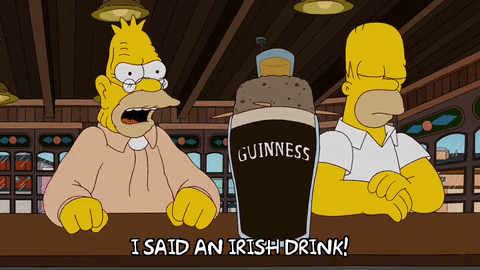 Not only is Ireland NOT the #1 consumer of the black stuff – it's not even #2!  Read on to impress fellow imbibers this St Paddys Day, while I explain. 
It's not too surprising to learn that the United Kingdom* consumes more Guinness than the Irish Republic  – we all know how the Brits love their pub time.  The real shocker is that Guinness sells more in Nigeria than in Ireland.  Amazingly, Ireland comes in 3rd after the UK and Nigeria as top consumers!
So how on God's very green Emerald Isle did that come about?!
Thanks in part to a clever "Guinness Gives You Power" marketing campaign in the 1960s, nearly 40 per cent of all Guinness sold worldwide is in Nigeria, with over 2 million bottles sold daily across Africa. The Nigerians really love Guinness, the black stuff is very popular all over Africa. There's no less than three Guinness breweries in Africa; Nigeria, Ghana and Cameroon.
With a slightly tweaked name, Foreign Extra Stout has a different recipe from its Irish counterpart, using sorghum rather than barley to develop its flavor.
The result? A beverage that's a lot more peaty in taste – not to mention a damn sight stronger with an alcoholic content of 7.5 percent (Irish Guinness is 4 percent ABV).
Imagine doing an Irish Car Bomb with one of these beauties? Think I'd better pass and stick to green beer. -)
*United Kingdom = England, Scotland, Wales & Northern Ireland.
Great Britain = England, Scotland & Wales
England = England 🙂